Vietnam, a long, narrow country with a myriad of beautiful destination with a high level of cultural & traditional values. It's always an ideal place for tourists to get out of their comfort zone and traverse to spectacular Vietnam. Vietnam, a small nation with a lot of places recognized by UNESCO, is an ideal place for your travel.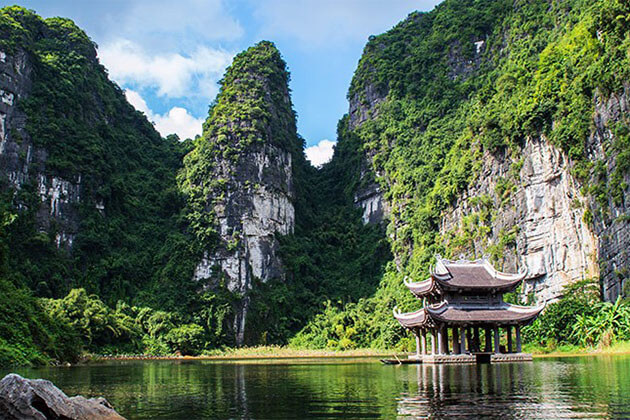 Vietnam is so proud of the eight World Heritage Sites consisting Halong Bay, Trang An Complex, Phong Nha Caves, Hue Imperial Citadel, Hoi An Ancient Town, Thang Long Imperial Citadel, Citadel of the Ho Dynasty, and My Son Sanctuary. No pictures or words can fully convince you of the reasons why these heritage sites receive the titles better than the actual visit. Before picking up a plan to get there, you might need to take a look at the Vietnam map to be able to locate each heritage site.
Halong Bay – Where Dragon Lands
Tourists find it easy and frequent to Halong Bay. If you begin from Hanoi, then take advantage of the new Hanoi – Hai Phong Expressway that cuts the transfer time by half (reducing from 3-4 hours to only 1 hour and a half). Often, people choose to travel from Hanoi to Halong Bay for an enjoyable day trip. Other ways to get to this UNESCO Bay are the helicopter, seaplane, and even cruise or yacht. You just need to contact the local tour agency, and they will handle the rest to take you there. Upon your arrival, the unique Bay with dramatic limestone karsts, emerald sea, mysterious grottoes, and primitive greenness will tell you why "Bay of the Descending Dragon" wins the international admiration.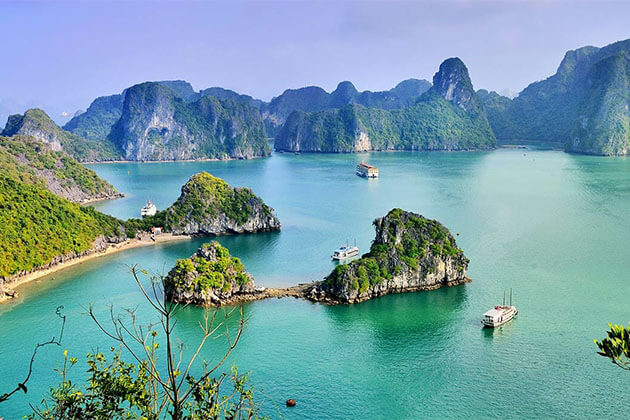 Refer some ideal tours in Halong Bay, view here
Trang An Scenic Landscape Complex (Ninh Binh)
Also called "Inland Halong Bay," Trang An Scenic Landscape Complex owns the fascinating scenery of nature as well as the cultural events to study. You can travel from Hanoi to Ninh Binh Trang An (about 90km) by train, coach, or bus, and the trip often takes around 2 hours or more. From Ninh Binh, it takes around 10km-drive to reach the Heritage. Then, the best way to explore the site is a boat trip on Trang An River and around the natural limestone structures. Also, stop to discover the caves in the mountains.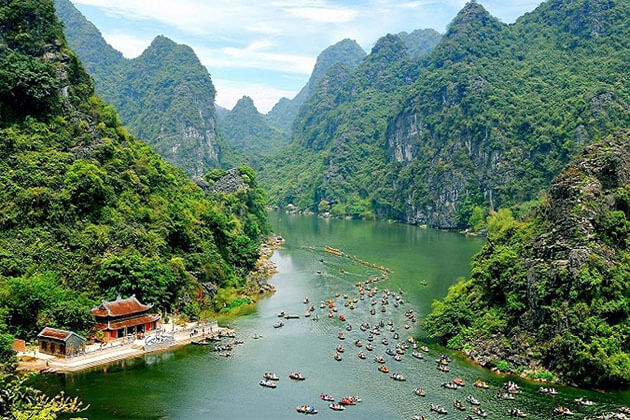 Refer some ideal tours in Ninh Binh, view here
Phong Nha – Ke Bang National Park (Quang Binh)
This UNESCO Natural Heritage Site is all about caves, especially the Son Doong Cave that has amazed the whole world since its discovery. Other interesting caves include Paradise Cave and En Cave amongst numerous other natural formations. To travel from Hanoi to Phong Nha Ke Bang, you can use the train, bus, taxi, coach, and even flight. The Heritage is located in Bo Trach, around 50km northwest of Dong Hoi City, Quang Binh Province. In particular, the Hanoi – Dong Hoi train will take around 10 hours, with the railway distance of 522km. Besides, the common Hanoi – Phong Nha bus will take around 9 hours 45 minutes, which takes you directly to the Site (no need to take any extra transfer). For the quickest way to Phong Nha Ke Bang National Park, take a flight from Hanoi to Dong Hoi Airport with a duration of 1.5 hours.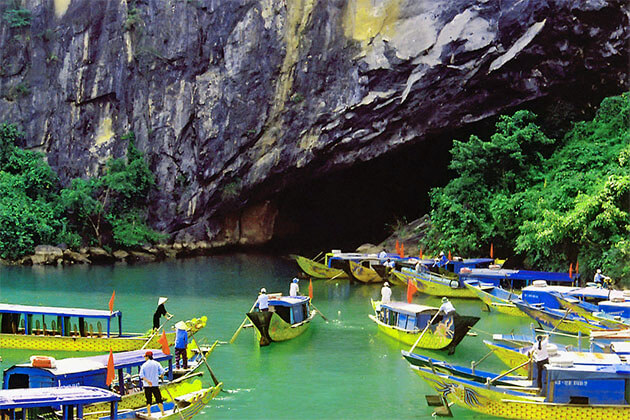 Refer some ideal tours in Central Vietnam, view here
Hue Imperial City
There are ways to travel to Hue that you can go by bus, train, and flight. You can take a flight to Phu Bai Airport at ease, and upon your arrival, take a drive of 15km to Hue city center. Another option is to get a train because Hue is an express stop on the major north-south railway between Hanoi and Ho Chi Minh City, then get off at the Hue train station. Buses run to Hue from many corners of the country. For instance, it takes 2.5 hours for a drive to Hue from Da Nang, 3.5 hours from Hoi An, 4 hours from Phong Nha, etc. Getting there, you will be pleased to contemplate the beautiful citadel of the Nguyen Dynasty, the serene landscape, and lots of thrilling stories about the past time.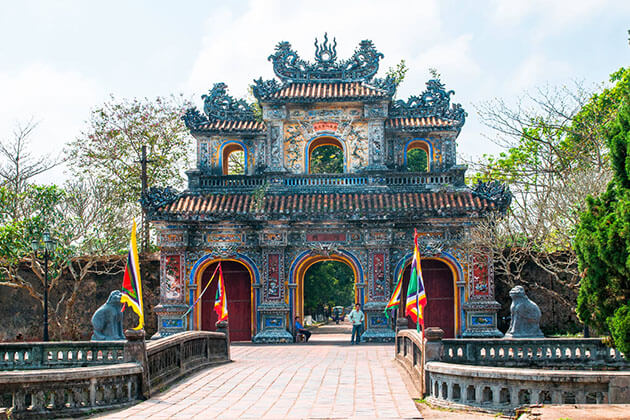 Refer some ideal tours to discover charming Hue, view here
Hoi An Ancient Town (Danang)
Not only is the world's one of the best tourist cities in 2019, but Hoi An Ancient Town has long also been a UNESCO World Heritage Site since 1999. This is the charming old city preserving the culture and architecture of the 15th-19th centuries when it was a large trading hub. Next, to Hue, Hoi An is open to tourists who can access it by air, train, and bus. For air travel, know that the closest airport to this old town is Da Nang International Airport, which is 30km from Hoi An. And, for the train transport, the closest train station is also in Da Nang, from which you can find a "motorbike taxi" or car to access the town. What's more, there are direct bus tours to Hoi An, like The Sinh Tourist open tour bus. You can also take advantage of the minibus shuttle between Hoi An and Da Nang, which can be booked by your travel agency or hotel.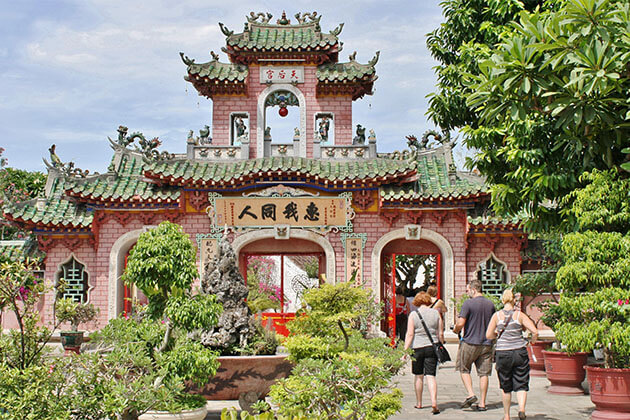 Refer some ideal tours in Hoi An – Danang city, view here
My Son Sanctuary (Quang Nam)
As a relic of the Champa, My Son Sanctuary won the title of UNESCO World Heritage with the temple complex from the 4th century. With proximity to Hoi An Ancient Town, this sanctuary is often included in the half-day trip from the town. This means you can conveniently get to My Son when you are already in Hoi An; the drive will take one hour or less. You can use the shuttle bus service or get a taxi. Note that this attraction requires an entrance ticket. Passing through the ticket office, you will find the wall posters which illustrate the history of My Son. After the museum visit, use the free electric shuttle picking you up at the station behind a bridge for a ride through the lush jungle. It's important to walk through the marked paths, and you can hire a local tour guide that will cost some dollars to better explore the ancient architectural ruins amid the forest.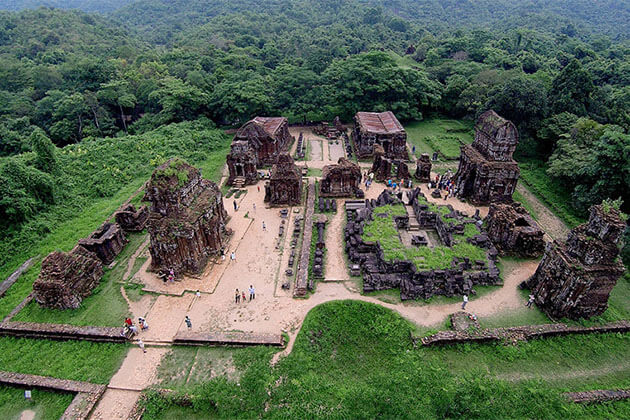 Refer some ideal tours in Vietnam, view here
Imperial Citadel of Thang Long
Located in Ba Dinh District, in the center of Hanoi capital city, the UNESCO-listed Imperial Citadel of Thang Long is an eminently historical heritage dated back to the late 19th century of Thang Long – Dong Kinh. So, this means you just need to be in Hanoi, and then take a cyclo, taxi, or bus to reach the relic. And if you are standing at other tourist attractions like Quan Thanh Temple, Cua Bac Church, or Vietnam Military History Museum, take a 15-minute walk to get there. Pay the entrance fee to get inside, marvel at the ancient imperial citadel, and make sure you don't miss the Hanoi Flag Tower.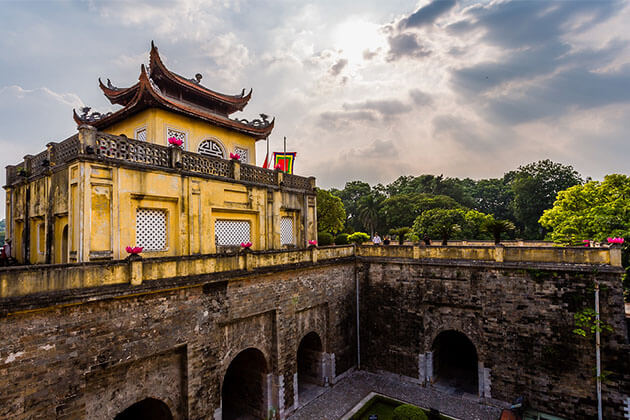 Refer some ideal places in Hanoi, view here
Citadel of the Ho Dynasty
Many of you might not hear about this 14th-century heritage, and to somebody, the site is quite unimpressive. The relic of the huge stone wall encompassing the citadel hit the UNESCO's attention to grant the title in 2011. It is around 150km from Hanoi, which takes a drive of 3 hours or less. Passing the big gates on each side of the heritage, you will be interested in listening to the history as well as touching the antique walls and capturing the giant stone wall in different light conditions.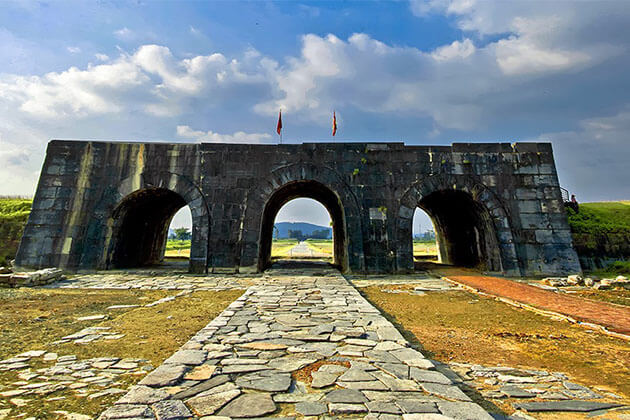 Ways to get to UNESCO sites in Vietnam above will help sketch the routes and plans to any of the Heritages that you want to relish. Time your trip to Vietnam soon.