With three major rivers of Yangon, Irrawaddy and Chindwin, the trip to explore the land of gold Myanmar will become much more interesting for you. Travelling on a boat will help you to enjoy gently the natural landscape and a lot of ancient temples on the sides of the rivers.
In case you prefer vast ocean, you can also rent a boat to discover Mergui Archipelago, visit hundreds of rocky islands with the wonders of the rocks, the emerald fresh water and the deep blue sky.
In the southern, you can have the chance to enjoy wonderful minutes at Andaman Resort in Inle Lake…
Myanmar people
If you question anyone who used to be on Myanmar vacation that what they feel most impressive, the answer will always be sparkling golden temples and jolly faces with streaks of thanaka. No matter where you are in Myanmar tours, you can easily encounter a friendly smile and receive enthusiastic supports from the residents.
Myanmar cuisine
Although Myanmar cuisine is considerably influenced from neighboring countries like India, China, Thailand, its dishes still have many attractive characteristics. Myanmar food is not only amazingly tasty, impressively cheap but also super picky in processing. If you have the opportunity to Yangon and Bagan, take advantage of it to try the unique street dishes such as tea and flat bread, salad samosa, Shan noodles, baked goods and aromatic curry rice.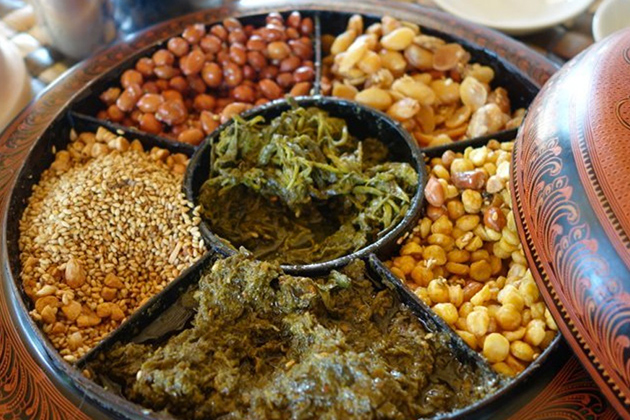 Visit beautiful temples in Bagan
The poetic city Bagan is located on the banks of Ayeyarwady River. The place possesses a huge number of sparkling temples in Southeast Asia with mysterious colors, sacred vibes and countless surprises waiting for you to figure out. The temples at Bagan usually are very close each other, so visitors can easily discover just with a bicycle. Besides, you can totally choose other exciting vehicles such as motorbikes, tuk tuk, buses…
Discover the beauty of Ngapali – One of the most beautiful beaches on the world
For visitors who have romantic hearts, looking for a pristine and idyllic beauty, Ngapali Beach is definitely the most appropriate destination. Ngapali is one of the most famous beaches in Myanmar, with untamed nature, twinkle sand, sunshine and lush coconuts. Besides swimming, diving, sunbathing or exploring around the landscape, tourists can immerse themselves into journeys to small fishing villages and local markets, or dig into the countryside on a small bike.
Golden Rock
From about 200 kilometres from Yangon, Golden Rock lies at an altitude of 1,100 metres, dotted by the small pagoda Kyaiktyo. Golden Rock is globally far-famed for the protruding and gold surfaces. If you plan going to Kyaiktiyo Temple, you absolutely do not miss to visit Golden Rock. However, ironically, due to the religion factor, only men are allowed to approach Golden Rock, women could only take a view from a distance.
Balloon over Bagan 
Bagan is located by romantic Ayeyarwady River, right at the central of Myanmar. To enjoy the overview of the city, there is nothing exciting than seeing it from a balloon. Below the balloons, thousands of magnificent glittering gold tower pagodas undulating on immense plains. In particular, morning is the best time to watch Bagan from the balloon.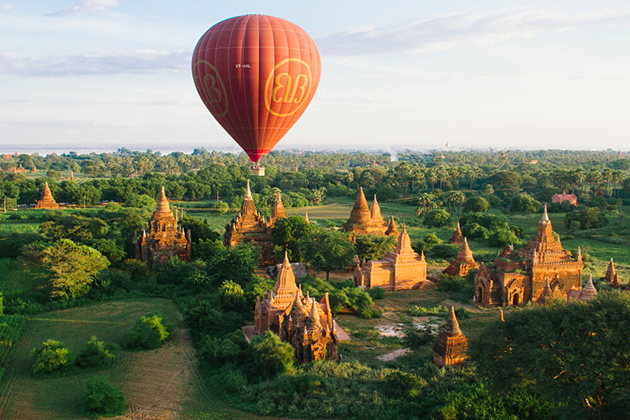 Vibrant life on the streets in Mandalay
Mandalay, the name may make you feel peaceful and softhearted, however, this city is really pretty busy with a lot of interesting activities on the streets.
Just get away from the hotel and stroll along the roads of Mandalay, you will know that your decision is completely correct. The beautiful city not only attracts you with the crowded markets which sell all kinds of goods such as clothing, handicrafts, especially street food. Moreover, the beauty of the ancient architectures, and the hospitality of the local people here will help you quickly integrate into the exciting life in Mandalay.
U Bein Bridge
Ubein Bridge in the ancient village Amarapura is the longest teak bridge in the world (about 1.2 km). This wooden bridge existed nearly 200 years old, is the way that Amarapura Villagers come back home, and is also the pilgrimage path of the monks who wear long robes …
From U Bein Bridge, the sunset is freaking sparkling, brilliant and impressive that will be a lasting memory for visitors.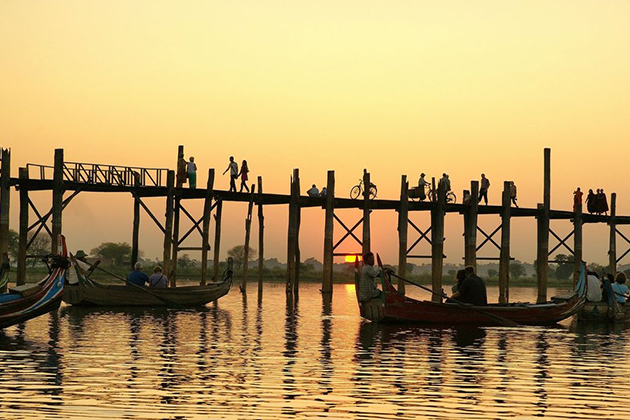 Ideal destination for backpacking
The thing that most visitors enjoy when traveling to Myanmar is to admire the beauty of the nostalgic temples and peaceful greenery roads. Although in the recent time, Myanmar has begun to open to international tourists, the country has not set a strong focus on tourism. Coming Myanmar, you may feel like you are the first explorer of a mysterious land. Besides, Myanmar is also voted as one of the destinations that wanderlusts cannot be ignored by a lot of famous tourist magazines.