In Hoi An tour packages, assembly halls in old quarter has always received much attention from tourists, including Cantonese Congregation. Built in 1885, it is one of the most well-known historical significance of Hoi An ancient town. The building wears the colorful architecture by the harmonious combination of wood, stone and exquisite decoration. As a self – contained work, Cantonese congregation comprises a three-door temple gate, a large yard for bonsai. Inside the building, there are many valuable ceramic antiques reflecting classical dramas of Cantonese culture and written records of the community's life. Outside Cantonese congregation, tourists will be fascinated by various shops and markets with silk dresses for sale.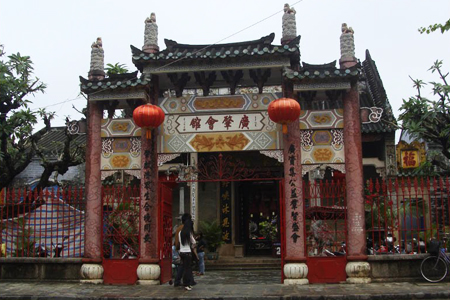 Every year, the Lantern Festival on the 15th day of lunar January, and the festival expressing their respects to Quan Cong – a General of China attract tourists from all over the world.
Cantonese congregation is deserved to be a cannot-miss destination of Hoi An travel. If you have an opportunity to set your foot in Hoi An, don't ignore Cantonese congregation to get pleasure of seeing this architectural heritage of Vietnam.